Uncover the Hidden Treasure
in Your Maritime Big Data Analysis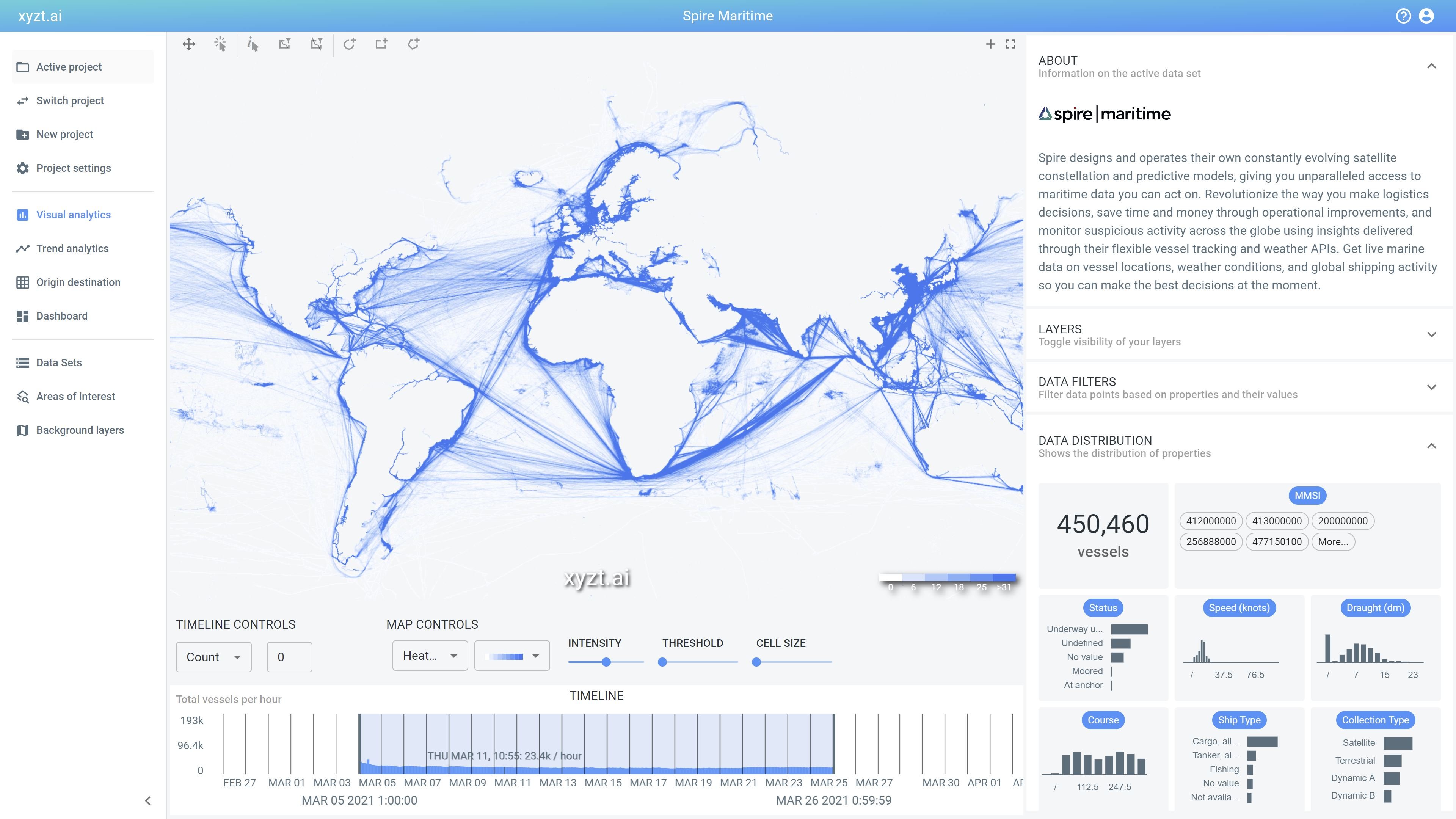 Maritime Digitalization Revolution
Port authorities, shipping companies, and maritime agencies have adopted automation more slowly than comparable sectors. However, change is coming, and the pace is now starting to accelerate.
Many companies in the maritime industry lack good quality, maritime location data, or scalable tools to extract and disseminate business insights from the data, and this is where xyzt.ai and Spire can help.

I've been analyzing AIS data for a long time now, and this tool is just incredible with how easy it makes it to not only analyze data but to visualize the analysis as well and to do a dynamic on-demand analysis of very large volumes of data, it's truly unique in its capability. I'm looking at it and just drooling with ambitions of the analysis that we can do. Things like the volumes, the patterns of different companies, patterns of different terminals, comparing voyage speeds and looking for trends in speeds which is a significant factor in costs operationally on voyages and tells us what's happening in the market in relation to market rates and bunkering and availability of tonnage in relation to speed and how quickly ships are committing to do the voyages.
It's all very important information that today is taking a lot of analysts a lot of time to analyze, and it's not easy to repeat. I'm convinced this tool makes it very easy to get to really valuable information very quickly.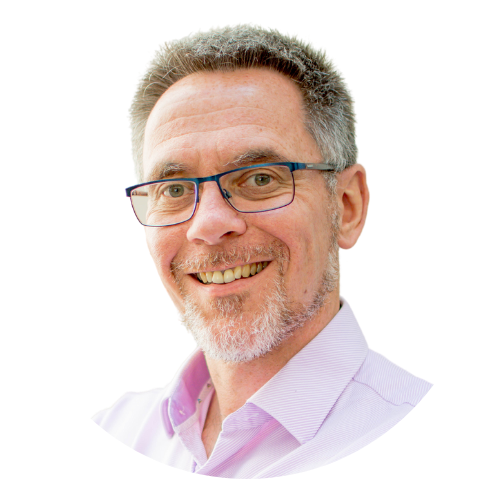 Mark Deverill
Data Operations Manager, Spire Maritime
AIS Data Can Drive Your Digital Transformation
Maritime data, also known as Automatic Identification System (AIS) data, was initially used for maritime collision avoidance. Through AIS, vessels communicate their location and receive the position of the surrounding vessels.
Maritime data is big data, and it accumulates quickly when logging multiple hours and days of vessel traffic. The information contained within AIS data is not limited to longitude and latitude. You can find a lot more within; a timestamp, ID, status, activity, and draught, to name a few.
Because of the size and complexity, working with maritime data and performing analysis on it can be a real challenge. Analysts and data companies alike have real difficulties analyzing data that is both spatial and temporal for the following reasons:
The data is big data.
The data has multiple properties. It's multi-signal and not just location; it's much more.
The data is Spatio-temporal and cannot be handled very well using traditional geospatial software of business intelligence tools.
Register now and join Bart Adams, Founder, and CTO at xyzt.ai, and Spire Maritime's Data Operations Manager, Mark Deverill, to learn how to effectively extract value from your big maritime data and uncover new business insights and opportunities.
Scroll down to learn more about them the use cases that are demonstrated in the webinar.
AIS Data Use Cases
AIS data has many use cases, from battling illegal fishing to incident analysis and route optimization to traffic monitoring. It's no longer only for collision avoidance.
Covid-19 Impact on Passenger Travel
Discover how AIS data can be used to analyze the global and local impact of Covid-19 on passenger travel around the world.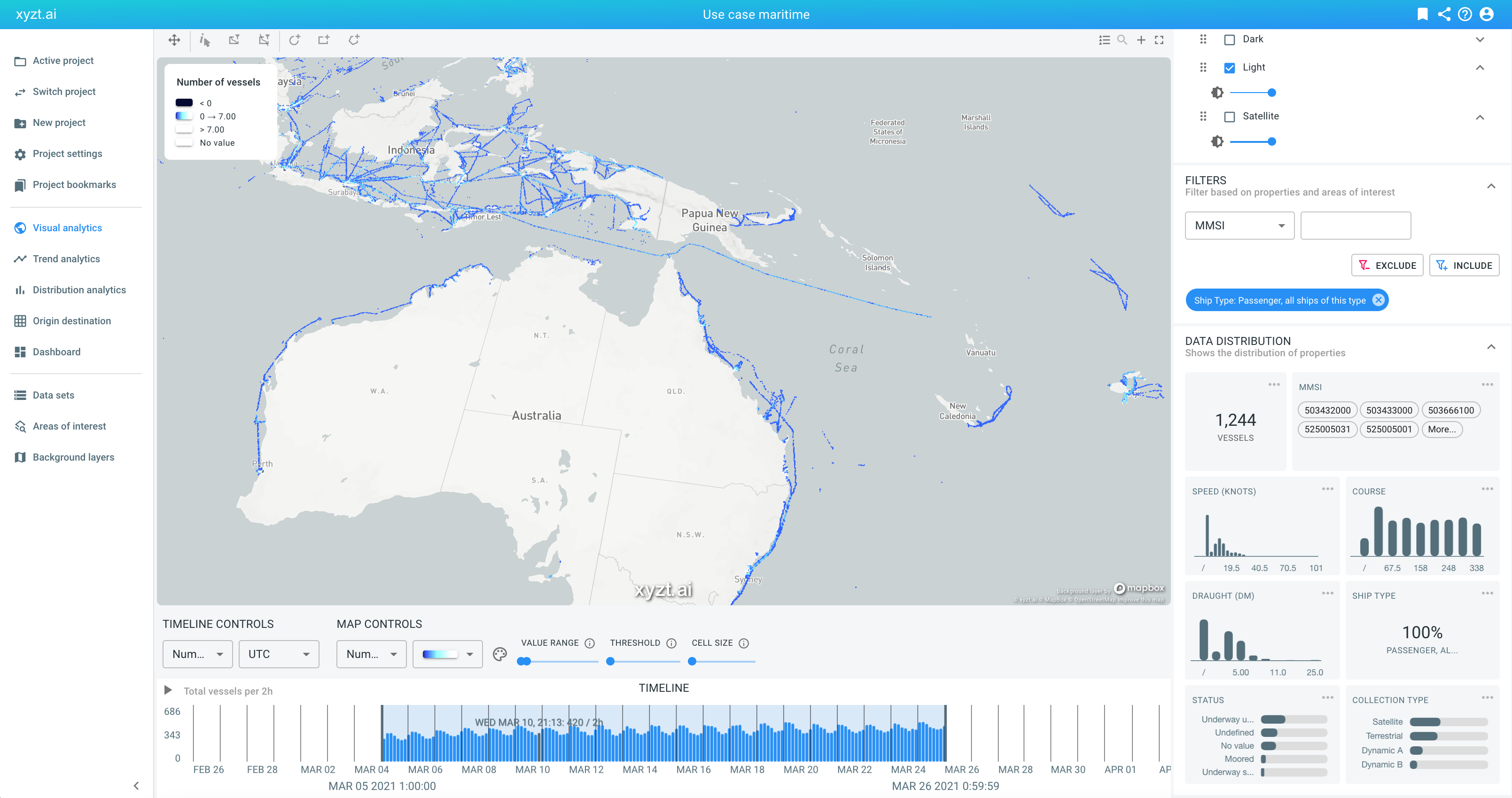 Monitoring Tanker and Terminal Activity
Monitor the movements of chemical tankers around the world. Who are the main operators? Where are they going? What is the competition doing?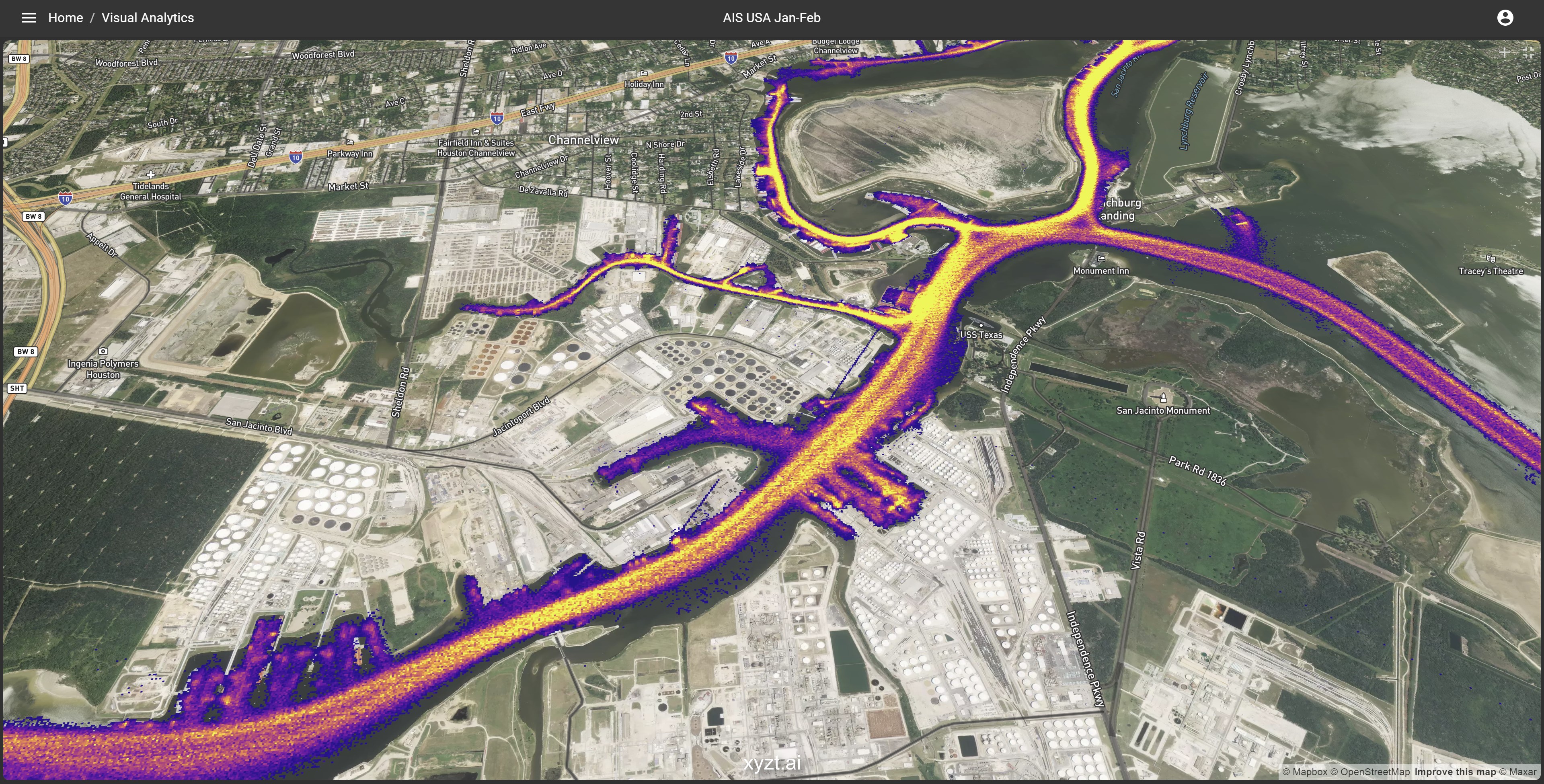 Start exploring xyzt.ai today
Innovative insights for advanced mobility.
Sign-up for a 30-day, no-obligation, free trial and discover the power of xyzt.ai's visual analytics for big location data.