Detecting Anomalous Vessel Movements
with AI
at Port of Antwerp
Accelerate the Transition to a Smart and Safe Port
Technologies such as AIS and radar that were originally meant for vessel collision avoidance and vessel tracking, generate real, big data that can be used to fuel machine learning algorithms for actionable insight generation.
Learn how Port of Antwerp, in combination with xyzt.ai, exploits data-driven machine learning to extract actionable insights from large amounts of historical vessel movements to maintain a safe and secure port environment.
Bart Adams, xyzt.ai's CTO, tells you more.

From the first meeting with xyzt.ai, we were very impressed with their visual analytics platform. It's a fantastic toolbox that generates insights from large volumes of location data with incredible speed and efficiency. They also have a great team of experts with the right mindset and work ethic. Working with xyzt.ai helped Port of Antwerp accelerate the transition towards a smart and safe port.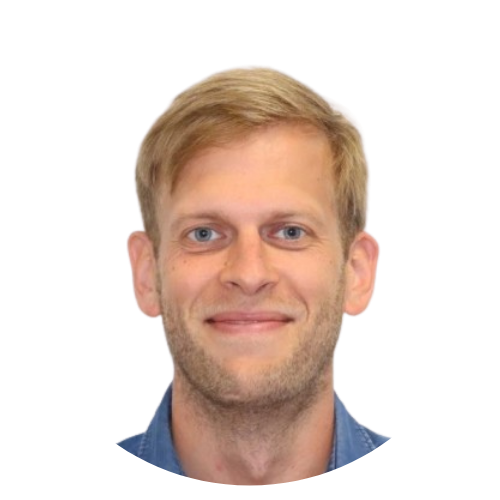 Pieter van bouwel
Lead Data Scientist, Port of Antwerp
Accelerate the Transition to a Smart and Safe Port
A port is a complex environment with a large number of movements and interactions every day. As a transportation hub, many of those movements and operations involve large international logistics operations. Some could be out of the ordinary, i.e., anomalous, or even suspicious, illegal, or a threat to the safety of the port. Fortunately, technologies to monitor and analyze these movements are available.
However, working with historic vessel movement data and performing analysis on it can be a real challenge. Analysts have real difficulties analyzing data that is both spatial and temporal for the following reasons:
The data is big data.
The data has multiple properties. It's multi-signal and not just location; it's much more.
The data is Spatio-temporal and cannot be handled very well using traditional geospatial software of business intelligence tools.
Register now and join Bart Adams, Founder, and CTO at xyzt.ai, and Port of Antwerp's Lead Data Scientist, Pieter Van Bouwel, to learn how Port of Antwerp, together with xyzt.ai, exploits data-driven machine learning and extract's actionable insights from large amounts of historical vessel movements to maintain a safe and secure port environment.
Scroll down to learn more about the business use cases for historic vessel movement data in a port.
Historic Vessel Movement Data Business Cases
What business cases are there within a port for historic vessel movement data? Find out below.
Compliance
There is much daily activity in a port, and regulations need to be followed. Monitoring and analyzing vessel data can indicate anomalous vessel movements, such as inefficiencies, illegal activity, or safety-related issues.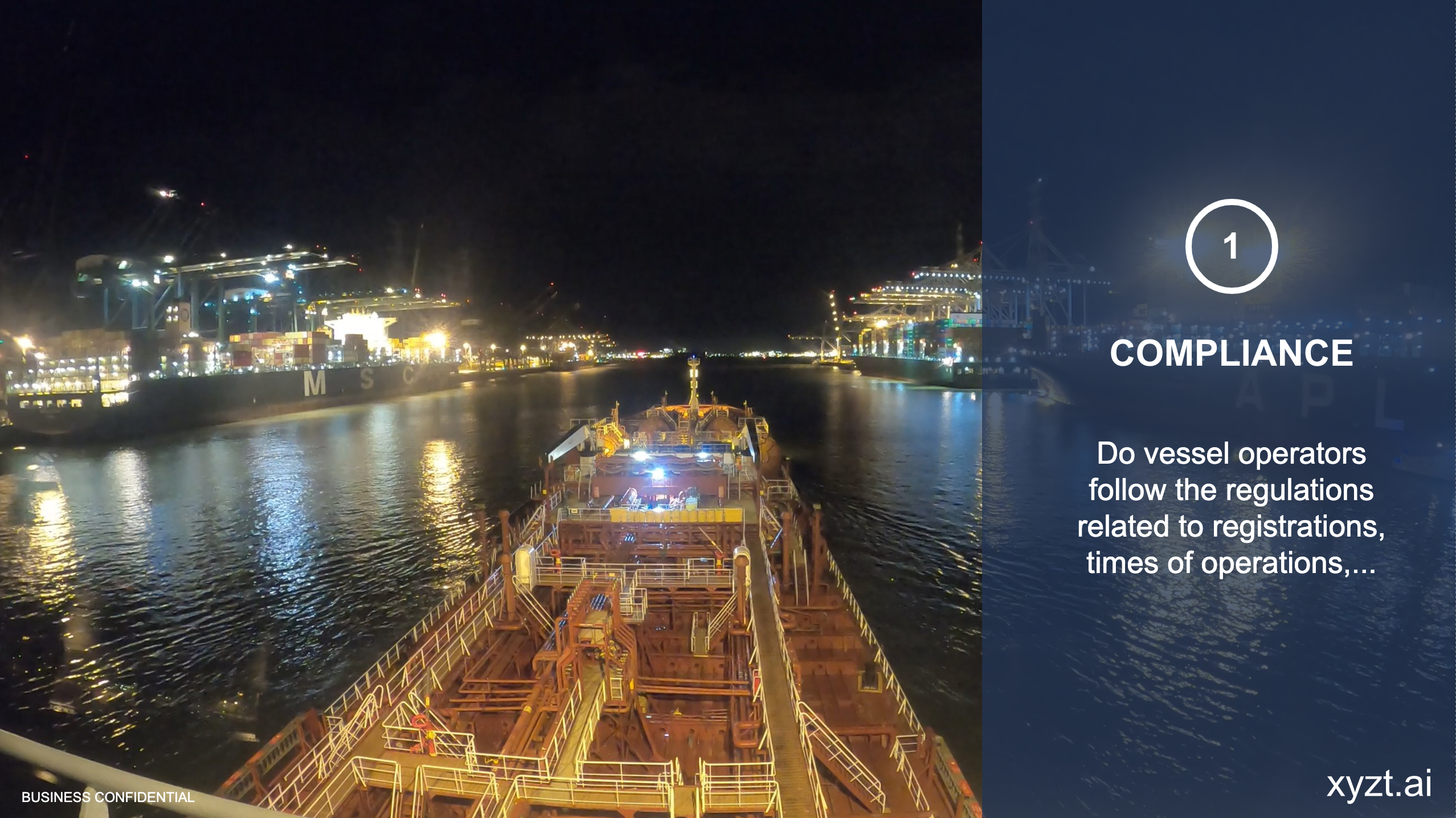 Safety
Analysis of a collision or near-collision can reveal opportunities for increasing safety in port fairways and terminals.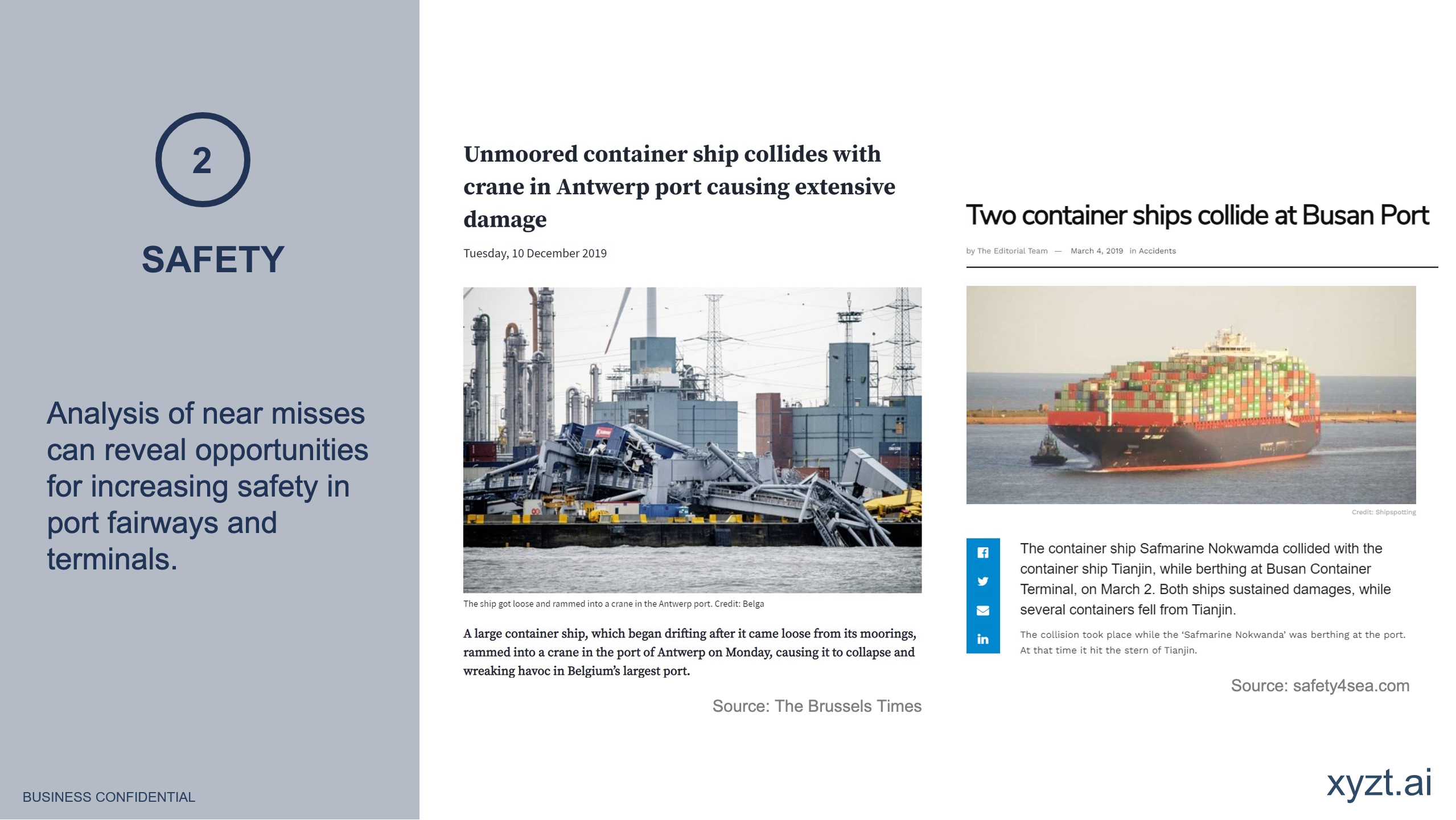 Port Performance
Analyze the operational efficiency of your port and the neighboring and competing ports to learn how you can improve your performance.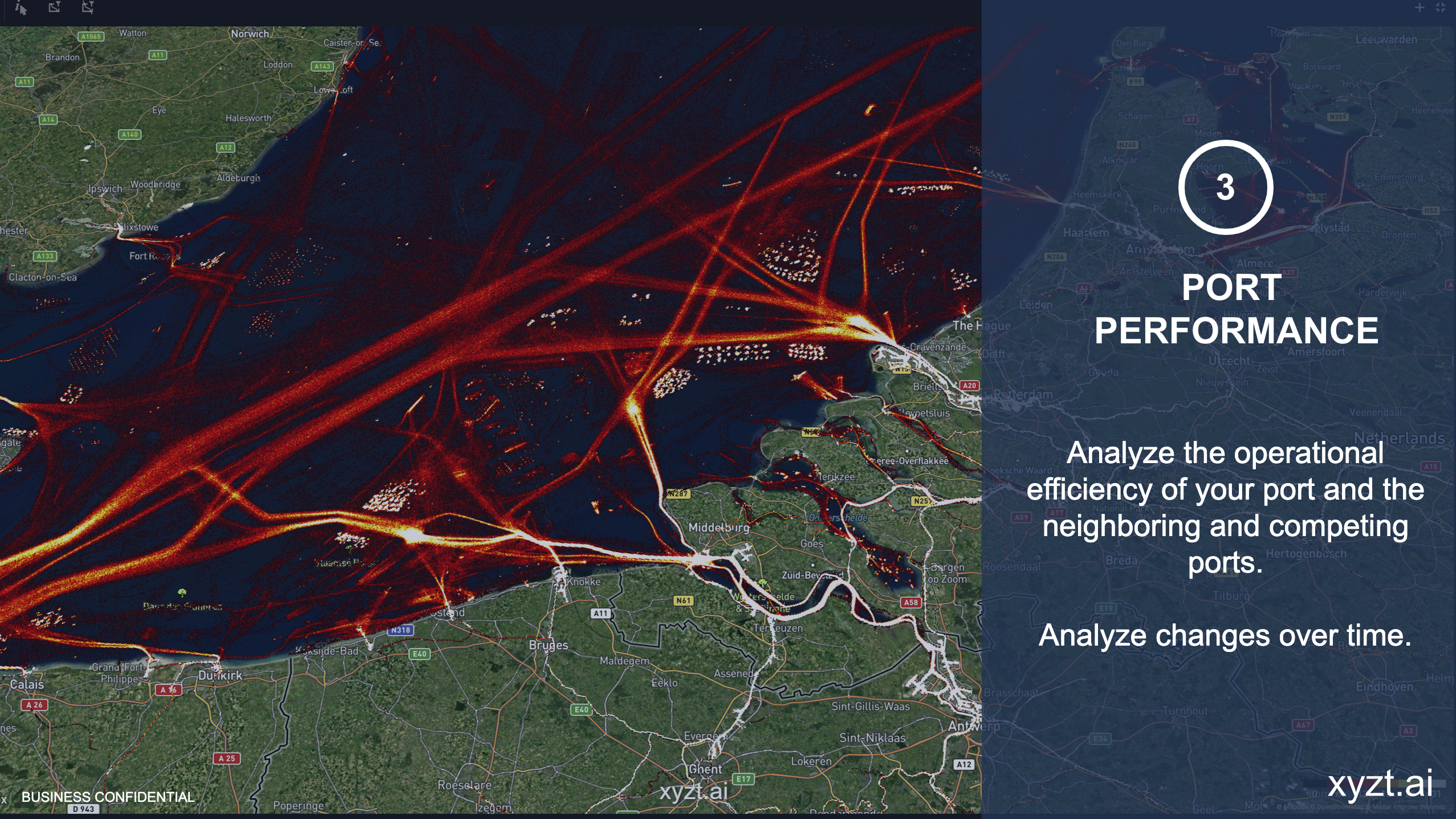 Environmental
Ports can analyze historic vessel movement data to learn if their infrastructure is ready for this energy transition. The data can also be used to learn if there are environmentally-harmful activities taking place, such as the degassing of tankers.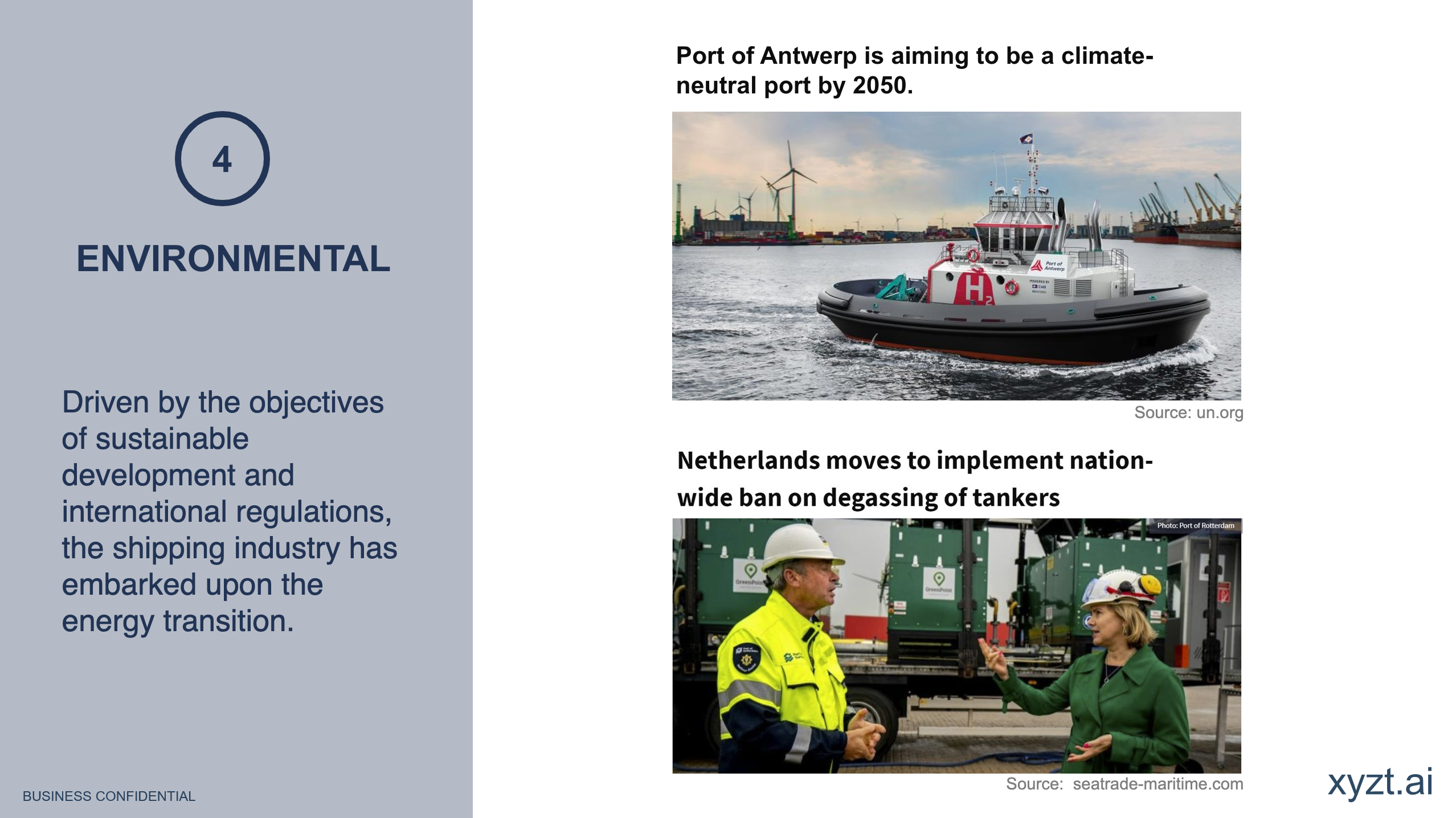 Start exploring xyzt.ai today
Innovative insights for advanced mobility.
Sign-up for a 30-day, no-obligation, free trial and discover the power of xyzt.ai's visual analytics for big location data.